In the area of church furniture, nothing is as beautiful as the simple elegance of quality woodworking.

We're excited to announce that our ministry is working with our friends at Imperial Woodworks to offer your church big savings on the 8200 pulpit chair.  This beautiful chair (pictured above) is perfect for seating your pastors, speakers, and pulpit-guests.  Intricately carved and crafted and padded with regal red fabric these chairs come in two heights 44″ for side chairs and 48″ for a center pulpit chair.  At 27″ wide the chair is large enough to comfortably seat people of all sizes.  If you are interested in purchasing the 8200 pulpit chair from Imperial Woodworks please contact us for our special ministry pricing which will save your church money.
We also offer the 8201 series of furnishings from Imperial.  These include both models of their 8201 pulpit (all stained, and 2-toned) which stands beautifully at 46″ height.  At 36″ wide and 24″ deep it offers plenty of room and, with an adjustable 16″ x 20″ Bible stand, it can accommodate any speaker.
The communion table (60″ wide x 24″ deep x 32″ tall) and the flower stand (14″ x 14″ x 32″ tall) are also offered by our ministry at a discount rate for Christian Churches.  The savings we can offer on the entire line of 8201 pulpit furniture is significant so please contact us and save your church money.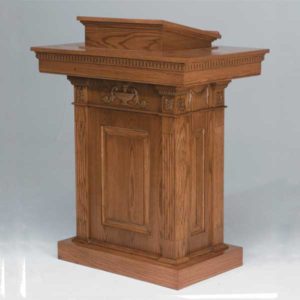 8201 Pulpit (All Stained)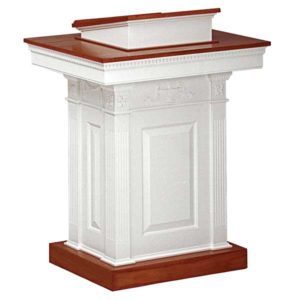 8201 Pulpit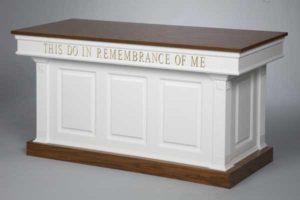 8201 Communion Table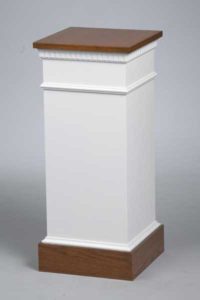 8201 Flower Stand
If you are looking for any other pulpit furniture please contact us as we can offer the entire catalog of Imperial Woodworking products at a significant savings to churches do to our unique ministry model.  Our mission is always to Save Your Church Money and we thank you for the opportunity to do just that.