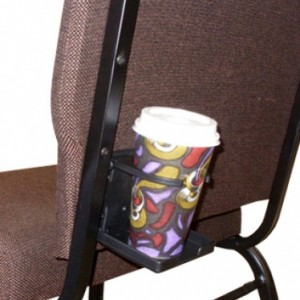 Churches utilizing church chairs have always enjoyed a number of add-on options that are available for their church chairs.  While these options have varied based on the actual chair model, some of them have included church chair book racks, church chair book pouches, church chair fabric card pockets, church chair communion cup holders, church chair poly card and pencil holders, etc.  What has been missing though over the years has been a quality church chair coffee cup and drink holder!
No more can this be said!  Comfortek Seating has designed and manufactured a quality church chair coffee cup holder for several of its popular 7700 Summit Series of Church Chairs, especially the SS-7701.  This church chair coffee cup holder can be easily attached to the back of the church chairs already in place and in use at the church.  Once secured in place it provides a stable storage solution for coffee cups and water bottles of many sizes via its adjustable features.
Your church maintenance staff will likely greatly appreciate coffee cups being safely held on the back of your church chairs versus set on the floor during worship and then accidentally being spilled as a foot bumps the coffee cup.  The costs incurred in caring for your carpet or flooring, cleaning up spills when they happen, and working on those coffee stains throughout the week can easily be eliminated with an offsetting investment in these coffee cup and drink holders.
Theater Seating and Stadium Seating found at movie theaters, sport stadiums, and other like venues have long incorporated drink holders either on the backs of seats or in the seat arms.  Studies have shown the result becomes far less possibility and probability of spillage happening when drink holders are in place and utilized.  This same reality is being experienced by churches installing drink holders on their church chairs.
Churches should be aware though that not every church chair will be compatible with this drink holder.  While many will be, we would encourage you to contact us at Church Furniture Partner to make sure this innovative coffee cup and drink holder will work well with your church chairs before purchasing them.  We can even arrange to send you a sample church chair coffee cup holder to try out first before making a quantity purchase.
For all of your church chair and church chair accessories needs, please feel free to contact us and we'll be pleased to come alongside your church.