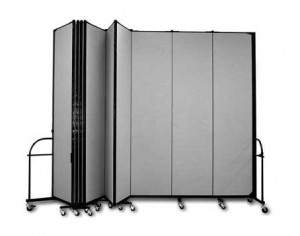 Bottom Line:  Screenflex Freestanding Portable Walls are a historically proven value solution providing a wealth of flexibility to many environments.
Pros: Lockable Self-Leveling Corner Casters, Steel End Frames, Position Controllers, Storage Latches, Great Versatility, Sound Absorbing Panels in Many Fabric Choices, Made in the USA and Produced in Numerous Lengths and Heights.
Cons:  If you wish to move your dividers from room to room, you will be limited in height to your doorway clearances.
Screenflex began producing freestanding portable room dividers back in the 1980's as the need of schools and churches to create temporary classrooms in multipurpose areas became common.  Since that time they have placed more than a quarter million portable walls into schools and churches.  These freestanding portable walls are available in 36 different sizes.   There are six different heights and six different lengths with each height available in each length.  These dividers are very stable as the steel end frame is quite wide.  In addition the dividers are not "top-heavy" which provides for very easy moving of the dividers from location to location without any sense of tipping.  Since no floor is perfectly level, each panel section has self-leveling casters that compensate for dips and rises in your floor.  Screenflex provides many choices of fabric and vinyl so each unit can be produced to blend in perfectly with your particular setting.  And all Screenflex units are produced in the USA and able to be shipped quite quickly for your use.
Our Rating for ScreenFlex Room Dividers:  4.90 out of 5
If you have experience with ScreenFlex Freestanding Portable Room Dividers then please take a few seconds to rate them above.  You may also leave your comments on the dividers in the comment section below.  Your input will help other churches make the right choice when it comes to purchasing portable room dividers.