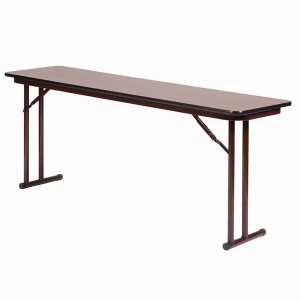 Bottom Line:  The Correll ST1860PX Folding Seminar Table with Offset Legs is economical and great for two persons per table!
Pros:  This table is produced in Arkansas, it is able to be shipped very quickly, it has ample leg room for two people, for orders of one or two tables it can be shipped via UPS, the table top is smooth enough that a single sheet of paper with no backing can be written on, the frame is very sturdy and the table top itself is a full 3/4″ thick.
Cons:  The ST1860PX is available to ship quickly in 6 table top/frame combos though all other finish combos will take longer to ship and require a five percent price increase.
This comfortable table is produced in the United States in Arkansas.  The days when seminar width (18″) tables also inevitably meant uncomfortable seating is over.  Almost every manufacturer now has some form of offset legs they make available for increased comfort and less "knee-banging".  Various mechanisms have been invented that greatly increase the amount of legroom provided for users of these tables.  And the mechanism integrated with the Correll ST1860PX is one of the most efficient we have seen and also one of the most cost-efficient.  We like it that this comfort advantage is achieved without additional cost.  The ST1860 also has a thick 3/4″ top that is very sturdy and creates a totally smooth surface for this table allowing writing on even a single sheet of paper.  Correll stocks this seminar table  in six top finishes which can be out the door very quickly after the order is processed.  Please be aware that each of these table top finishes has a matching t-mold edge and framing finish.  The 6 finishes are black granite, grey granite, medium oak, walnut, fusion maple and a dove gray.  Of course, 100's of optional laminates are available with a small up-charge for which lead times will also be longer.
Our rating for the Correll Inc. ST1860PX Seminar Table:  4.75 out of 5
If you have experience with the ST1860PX Seminar Table from Correll, then please take a few seconds to rate it above.  You may also leave your comments on the table in the comment section below.  Your input will help other churches make the right choice when it comes to buying seminar tables.