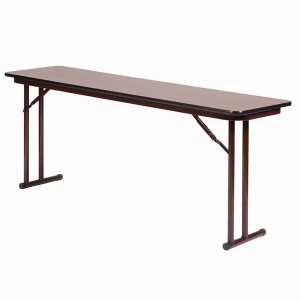 Bottom Line:  The Correll ST1872PX Seminar Table with Comfort Folding Legs may be the best overall value in its field on the market today!
Pros:  This table is manufactured in the United States, it is readily available for shipment in a good variety of quick-ship finishes, the ST1872PX features great leg room, the table is able to be shipped via UPS in small quantities, the HPL surface is very smooth, and the table top is a full three quarters of an inch thick.
Cons:  The ST1872PX has six standard finish combinations but all other combinations will add 5% to your overall price.
This seminar table is domestically manufactured in Arkansas.  For years Seminar Tables featured center legs that created a real discomfort for users of the tables as the legroom was so sparse that there was inevitable knee-banging that took place.  Since that time various folding mechanisms have been developed to off-set the table legs to provide far more legroom.  The mechanism on the Correll ST1872PX is one of the best we have seen and does not raise the price of the table as much as others on the market.  We like that very much!  The ST1872 also features a full 3/4″ top that holds up very well and provides a very smooth table surface for even single sheets of paper.  This table is stocked in 6 table top finishes and can be shipped in a very short time after an order is placed.  Each of these six top finishes has a matching t-mold edge and framing finish.  These six finishes are a black granite, a gray granite, a medium oak, a walnut, a fusion maple and also a dove grey.  Hundreds of other laminates are available if needed though a small up-charge is a part of any custom order and lead times will also be longer.
Our rating for the Correll Inc. ST1872PX Seminar Table:  4.85 out of 5
If you have experience with the ST1872PX Seminar Table from Correll Inc. then please take a few seconds to rate it above.  You may also leave your comments on the table in the comment section below.  Your input will help other churches make the right choice when it comes to buying seminar tables.