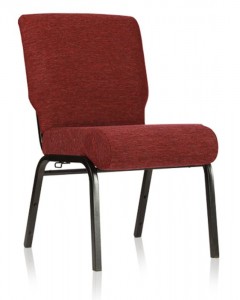 Purchasing Church Chairs necessitates exploring a wide range of various options and issues.  We've written about many of those before.  Recently a church asked us what the three most critical factors were that they should be aware of.   Below are the three we walked them through.
An "Actual" Manufacturer versus a "Pretend" Manufacturer:  We operate in a technical age where it is quite simple to portray one's company in a less than accurate manner.  This is very true when it comes to selling church chairs.  There are companies that manufacture church chairs and then sell them both directly and through dealers and distributors, and then there are companies that "pretend" to be church chair manufacturers.  When you see phrases like "built to our specifications" and "assembled in the USA" and so forth, the chances are these chairs have been produced by a third party offshore factory, and then sold to a chair dealer who is then allowing you to assume they actually manufactured those church chairs when that is not the case.  We strongly believe that purchasing church chairs backed by an actual manufacturer is a critical choice for your church to make.  For more on this practice, please read this.
A Static Auditorium Setup versus a Flexible Multipurpose Use:  How are you going to use your new church chairs?  Will they be set up in more traditional auditorium rows, or will you have more of a multipurpose need for your church chairs.  Your envisioned use and environment should greatly influence the style and model of church chair you purchase.  Rowed auditorium chairs will tend to be heavier and bulkier but have great size and comfort.  Multipurpose chairs will be less wide and more of an individual chair that are easier to move and also configure into different types of setups though they will be less comfortable over time.  Your church is unique and your church chairs should complement that uniqueness.  We encourage you to make this a critical choice for your church.
A True Honored Church Chair Warranty versus a Loophole Filled Church Chair Warranty:  We have found that church chair warranties tend to sound the same when they are communicated verbally over the phone.  We have also found though that when warranty certificates are requested and received there are considerable differences in them to consider.  In fact, some church chair providers will not even supply a written certificate of warranty.  What sounded so great over the phone is not available in writing!  It is critical that your church have a solid and backed warranty for your church chair purchase.  We have written about this in the past here and here for your reference.
These three critical factors for your church chair purchase stand out.  But there are many more less obvious issues to consider.  Please feel free to contact us at Church Furniture Partner and we will be honored to assist you in making the best and wisest choice for your church!