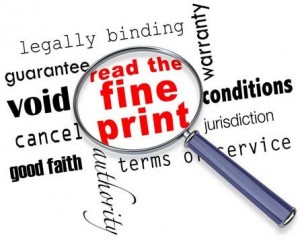 "We found out our supposedly 'great' church chair warranty was really not so great!"
Over the years that's a statement we have heard way too often!  A church decides to purchase new church chairs and extends much time and effort into making that decision.  In most cases they ask about the chair warranty somewhere during the process.  And in most cases they are told something like, "Our church chairs carry a lifetime warranty!"   "All of our worship chairs have a 25 year warranty on the frame and 10 years on the foam and fabric."  "Certainly our worship seating has a great warranty!"  And the church concludes that all chairs have a somewhat comparable warranty!

But here is what does NOT happen in too many cases!  The church does NOT request a copy of the actual warranty certificate.  They purchase their chairs assuming that they are coming with a great warranty, and only when they have problems do they find out about the fine print.  Here are a couple of examples we have run across recently from churches looking for new church chairs:
One church purchased 400 church chairs just four years ago.  They noticed that the fabric was "balling up" quite a bit.  They contacted the company they had purchased the chairs from and learned that fabric and chair was no longer even available.  Since many church chairs sold in the USA are sold by dealers and distributors and companies that do not work with an actual chair manufacturer, but rather third-party foreign factories that are constantly changing models if they can find a way to make a church chair for less money, this is actually a far too common experience.  This church learned that since their chair was no longer produced, their warranty was essentially meaningless.  This was a part of the "fine print" they had not investigated during their purchase effort.
Another church told us their story.  They had purchased 200 church chairs and then experienced some "twisting" issues.  By twisting they meant that when they looked down a row of chairs from the aisle, the seat backs did not form a perfectly straight line but rather demonstrated elements of crookedness and misalignment.  This happens when chairs are not designed with substantive steel cross-members to produce the needed lateral stability.  When they contacted the company that sold them the chairs, they were told that the terms of the warranty required the church to ship the chairs at the church's expense back to the manufacturer who could then evaluate the chairs and at their "sole discretion" decide if the warranty covered the issue the church had experienced.  They decided not to pursue this as the "fine print" really exposed how little this warranty actually meant.
At Church Furniture Partner we have investigated fully the warranties for each of the church chairs we provide churches.  In some cases, we will actually discourage certain brands because of our concerns with their warranties.  In a future article we will share the best case warranty scenarios that some churches experienced that were the opposite of those cited above.  In the meantime, if you have questions about church chair warranties, please feel free to contact us!