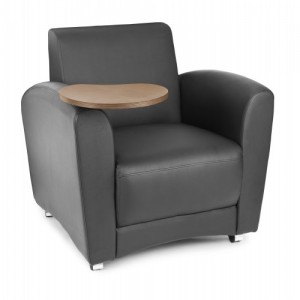 Bottom Line:  The OFM Interplay Series is a fine value for quality lounge and club chairs and sofas that feature a low price, are in stock for quick shipment, and are provided in a assortment of color combinations.
Pros:  Very attractive color combinations, standard tablet arms provided, available for quick shipment, handle and casters for easy movement, locking casters, contemporary design, a price value leader for this level of product.
Cons:  The sofa could be a bit larger for three person capacity.
The OFM InterPlay Line of Club and Lounge Chairs and also Sofas fill a special niche.  With lounge and soft seating, often there are two main choices available.  First, there are a number of faux leather, mostly black or brown, imported lounge chairs, loveseats and sofas.  The furniture is already complete, the options to custom finish are essentially non-existent, but the price is very attractive.  A second option is a custom finished solution from one of many manufacturers.  The choices are plentiful, custom finishes almost endless, but the price is quite high.
With the OFM InterPlay Series, there is now a third option available that provides a much lower price than a custom finish option, but a far more attractive appearance than an imported faux leather option.  There are numerous color combinations available such as Plum/Taupe, Nickel/Black, all Black and all Taupe with multiple finishes also available for the tablet arms.  We very much like the OFM InterPlay Series!
Our rating for the OFM Interplay Series 821 and 822 Lounge Seating is 4.75 out of 5
If you have experience with the Interplay Series of Lounge and Soft Seating from OFM then please take a few seconds to rate it above.  You may also leave your comments on these units in the comment section below.  Your input will help other churches make the right choice when it comes to purchasing their welcome centers.