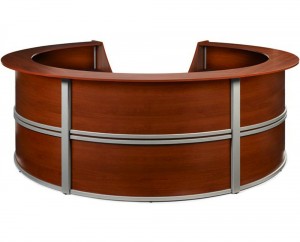 Bottom Line:  The Marque Series and Marque Plexi Series of portable welcome centers and reception stations from OFM are very attractive and provide great quality for a low price.
Pros:  Very modular and flexible, wire management cutouts, attractive in multiple finishes, easy assembly, good work space, readily availability for both the Marque and Marque Plexi Series.
Cons:  Available finishes are limited to various wood grain looks.
OFM Welcome Centers and Reception Stations are a great combination of fine quality and affordability.  Custom building welcome centers and receptions stations can be very expensive and often results in a stationary fixed center.  With the Marque Series and the Marque Plexi Series, a model that will complement your lobby area(s) is almost certainly available within the two lines, multiple sizes, and various finishes and you will be able in almost every case do so for a fraction of the cost of a custom solution.  There really are not a lot of portable welcome center solutions available today.  OFM provides a great one with the Marque Series and the Marque Plexi Series.  For your reference, here are the available models and sizes:  Marque Single Unit 55290, Marque Double Unit 55292, Marque Triple Unit 55293, Marque 4 Unit 55294, Marque 5 Unit 55296, Marque Plexi Single Unit 55310, Marque Plexi Double Unit 55312, Marque Plexi Triple Unit 55313, Marque Plexi 4 Unit 55314 and Marque Plexi 5 Unit 55316.
Our rating for the OFM Marque Series Welcome Centers is 4.70 out of 5
If you have experience with the Marque Series of Welcome Centers and Reception Stations from OFM then please take a few seconds to rate it above.  You may also leave your comments on these units in the comment section below.  Your input will help other churches make the right choice when it comes to purchasing their welcome centers.