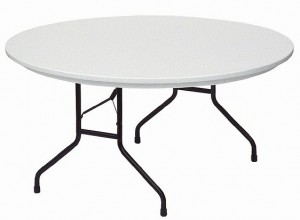 Bottom Line:  The R60 Folding Table from  from Correll Inc. is a quality lightweight folding table, domestically produced, with attractive styling.
Pros:  Domestically produced, attractive edge profile, two plastic color choices, two frame color choices, rugged yet lightweight construction.
Cons:  The R60 is available only in a wishbone leg style.
The Correll R60 is a domestically produced blowmold folding table that sets itself apart significantly in three ways from standard imported blowmold folding tables that are very common today.  First, the R60 has a beefed-up steel frame with additional undercarriage support and strength.  Second the R60 is available in two attractive color combinations (a mocha brown top with brown legs and a gray granite top with black legs) and does not need tablecloths to make it presentable.  And third, the R60 has a very attractive profiled edge versus the standard 2″ flat edge found on most blowmold tables.  The R60 from Correll is available in both color combinations for quick shipment.
Our rating for the Correll Inc. R60 Folding Table:  4.85 out of 5
If you have experience with the R60 Folding Table from Correll Inc. then please take a few seconds to rate it above.  You may also leave your comments on the table in the comment section below.  Your input will help other churches make the right choice when it comes to buying folding tables.