The Cisco SPA112 is the latest duel Analog Telephone Adapter (ATA) from the legendary Cisco Systems.  The interface is smooth to install with little information needed from your church's VoIP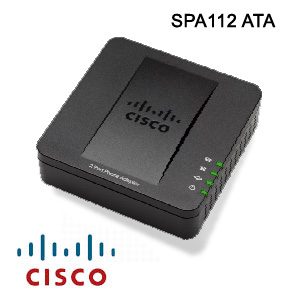 Provider and really focuses on simple use.  Due to the simple nature of the new Cisco User interface (UI) the ATA shines as a set it and forget it instrument in your office tools.  The SPA112 has duel ports clearly labeled as PHONE 1 and PHONE 2 making it easier to hook up to existing PBX Phone System or directly to each desk.  The SPA112 has a single Ethernet connection and is able to just be plugged in on the network to your switch or an open port on your router.  The ATA's codecs allow for advanced features as the revolution of VoIP takes the industry over.
SPA112 Features:
2 Analog Lines
Multiple Codec Support, including H323 and HD industry codecs
Compatible with older Phone Systems integration
Call Forwarding
Caller ID
Call Waiting
Internal Bridge
SPA112 Links:
Manufacturer Website
SPA112 Data Sheet
SPA122 User Manual (PDF)
Software and Firmware for SPA112
SPA112 Notes:
Watch out for Vendors that sell "as new" or "like new" many of these devices had core programming changes and the possibility of issues in the future arise when firmware needs to updated.  Pay the extra $5-$10 and get the device brand new.  Also don't be afraid to buy OEM White Box as these are much cheaper and the same product.  If you have difficulty know that WireSpeed will pre-configure the device to meet the Hosted PBX or Line Integration from your existing PBX.