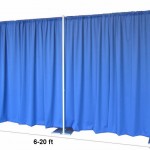 Over the years we have supplied many, many churches across the country with Pipe and Drape solutions.  We have worked with the major national manufacturers and providers of Pipe and Drape (Onlineeei, George Expo, SnapDrape, etc.) as we have sought to make sure that churches were able to purchase a quality product at the absolute lowest prices.  We have also been able to speak with many churches who purchased Pipe and Drape from various sources and have benefited from their feedback and evaluative work.
What is our conclusion?  The reality is we have not experienced or found a single time that Onlineeei was not the best source for Pipe and Drape!  In each and every instance we were involved in, Onlineeei's prices were the lowest and their quality was either equal or superior to other providers and sources.  As a result we recommend Onlineeei to the church community for all their Pipe and Drape needs.
And in addition to already having the lowest prices, by using the SYCM Promo Code of "SYCM14" you can save an additional 5% on all your Pipe and Drape purchases from Onlineeei!  This code can be used both via eCommerce on their site, or verbally through their customer service department.  At Church Furniture Partner, our recommendation for all Pipe and Drape needs is hands-down, Onlineeei!
Remember to use the coupon code "SYCM14" for an additional 5% off your entire OnlineEEI purchase.