Finally a chance to have a functional cordless IP Phone for my home and office I jumped at the new Grandstream DP715.  The installation was very simple and straight forward,  the user interface with the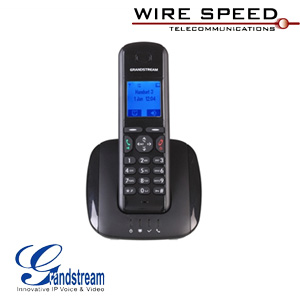 Grandstream was typical and easily configured.  Although you can accomplish a similar task with a couple DECT 6.0 phones from Walmart and a cheap analog telephone adapter (such as the SPA2102 we reviewed in June) where the DP715 really shines  is in the basic management of the SIP call routing internal to the cordless phones.
Call Routing
An almost PBX feature the DP715 allows specific call patterns to be placed on the phones locally so that a single account can be used and yet the phones are able to ring according to the pattern you choose.  Linear Mode makes the phones ring in a custom order to make sure that calls are answered.  Parallel Mode allows handsets to ring concurrently.  To make the phones more distinct in a cordless environment you can set each phone to a different ringtone so you know who's is ringing.  All in all it is limited versus a full PBX but it is a massive step in the right direction.
GrandStream DP715 Features:
4 Concurrent Calls
5 Handsets
up to 2 providers on the same device
DECT 6.0 Quality
Distinct Ringtones
Call Routing Selection
GrandStream DP715 Links:
Manufacture Site
Data Sheet (PDF)
User Manual (PDF)
GrandStream DP715 Price:
 The DP715 ranges from $60-$80 street value, resellers can get them a bit cheaper but expect to make it up in shipping charges as the margins are narrow on these phones.  The DP710 ranges from $30 to $50 each handset and require the main DP715 base station.
GrandStream DP715 for your church:
 If you are looking to have your church staff mobile through the building the base station placement becomes key for range but the DEC 6 does a decent job.  Depending on your needs you can have two different units running in the same ministry space.  Get a label maker to assign phones as it will speed up the "hey that is my phone" conversations!   Quality is good, the phones feel nice in your hand a good buy all in all to save your church money and bring some new technology to your staff.