We're excited to be offering wholesale church chairs for sale in our marketplace!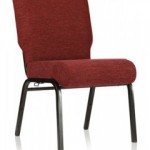 Our partner, Church Furniture Partner, is offering high-quality Comfortek worship chairs for only $30.95 each.  This is a savings of over $18 per chair and the chairs are brand new and ready-to-ship.
The Comfortek 7701 is not a cheap assemble-it-yourself chair – the foam is durable, the fabric meets all fire safety standards, and the frames carry a 25-year warranty…  These chairs are built to last your church for many years to come.
A perfect replacement for pews, these church chairs gang together to form seamless pew-style rows.  Available in several colors (while quantities last) so your church can find the right match to your sanctuary or worship center while saving dollars.
The Save Your Church Money Partner Marketplace was created to allow our partners to offer exclusive savings to churches while providing churches a safe, worry-free way to buy the goods and services they need online.  Church Furniture Partner has delivered as these church chairs are truly at wholesale price; you cannot find a comparable deal on a quality church chair anywhere.
To view the listing for the wholesale lots of Comfortek 7701 church chairs, click here.  Or you may call our partner, Church Furniture Partner, at 419-469-6411 and ask about their wholesale church chair offer on the SYCM Marketplace.