The Linksys SPA2102 offers a dual line configuration Analog Telephone Adapter (ATA) that is simple to setup and to install.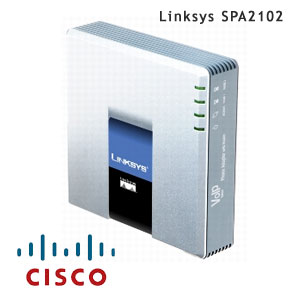 The Web based interface makes configuration a breeze and even complex installations of multiple ATA's are easily managed.  The SPA2102 integrates a standard Linksys router that may meet your needs if you are using it in a Small Office/SOHO environment.  The SPA2102 can handle up to 4 simultaneous calls across 2 lines on a stable, secure communication for your church or small office use.
SPA2102 Features:
2 Analog Lines
Multiple Codec Support G.729 and G.711u-law
Compatibility with Caller ID, Call Waiting, Call Forwarding and Voicemail
Spa2102 Links:
Manufacturer Website
SPA2102 Data Sheet
SPA2102 User Manual (PDF)
SPA2102 Firmware 
SPA2102 Price:
The price ranges on ebay from $40-$75 and on the Google shopping from $40-$50.  I would buy from a Linksys Authorized reseller for warranty and replacement policies.
SPA2102 Notes:
Watch out for "LOCKED" devices.  The SPA2102 can be locked by service providers and keep you from using a device on multiple VoIP carriers.  I have purchased hundreds of these for churches and customers on eBay and online classified sites with out issues.  Be very aware that buying used can leave you with a device locked to a provider that may not even be in service anymore.   If you do get a locked device you can try to unlock it following online suggestions from users of various services.  Pay the extra $5 for a "Factory Unlocked" device whenever possible.