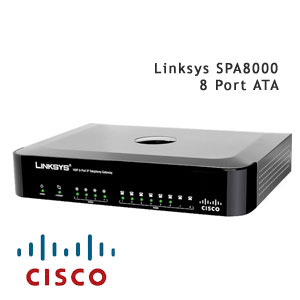 If you have an old key system or PBX and you want to benefit from the price savings and features, this may be the device for you.  The Cisco SPA8000 ATA is Part of Cisco Small Business Voice Gateways and offers 8-Port Analog Telephone Adapter as a bridge.  This IP Telephony Gateway allows for connections between eight analog telephones and an IP-based data network, providing churches and small businesses with IP Telephony through a broadband Internet connection.
SPA8000 Features:
Eight voice ports (RJ11) for analog phones
Impedance Agnostics – 8 Configurable Settings
Compatible with Call Waiting, Cancel Call Waiting, Call Waiting Caller ID
8 Simultaneous Three-way Conference Calling with Local Mixing
Message Waiting Indication – Visual and Tone Based
Touch Tone Phone Keypad Configuration with Interactive Voice Response (IVR)
16 Active Calls
Secure Web based configuration
SPA8000 Links:
Manufacturer Website
User Manual
SPA8000 Software
SPA8000 Price:
The price of this device varies greatly online.  Ranging from $250 to $600 it is best to get a qualified experienced Linksys/Cisco reseller.