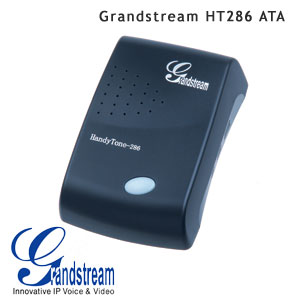 One of the most inexpensive ways to integrate VoIP into your church is to use an Analog Telephone Adapter (ATA).  An ATA is a device that takes the digital VoIP signal and turns it into Plain Old Telephone Service (POTS).  The Grandstream HT286 ATA is a single line ATA that offers a simple yet feature rich option to integrate into your existing phone network.  The Grandstream HT286 ATA supports popular VoIP codecs including G.729 and G.711a/u-law making it a popular choice for integration to legacy phone systems.
HT286 ATA Features:
Web based administration/configuration
Popular Codec support, G.729/G.711
Small foot print/lightweight
HT286 ATA Links:
Grandstream Product Page
User Manual
Firmware Download 
HT286 ATA Price:
You can find this online for as low as $20 on ebay and other auction sites, the normal range is about $25-30 with the power supply.