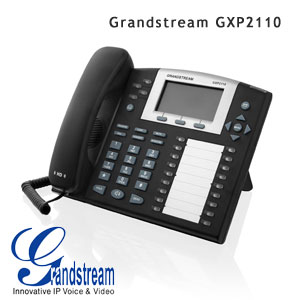 Sitting on my desk is a marvelous inexpensive IP Phone, the Grandstream GXP2110.  a four line business class phone.  Fitting the basic need of a phone that is simple to use yet offers many advanced features the Grandstream GXP2110 rises to meet this challenge.  18 speed dials on physical buttons makes interaction on this phone less about the menu and more about the phone itself.  Add some neat little features such as local weather on the 240×120 backlit display makes this phone great for any desk at your church.
GXP2110 Features:
Four distinct SIP lines with independent configuration
SIP Compatible
240×120 backlit display
Full duplex speakerphone
Dual Ethernet ports with integrated PoE
5-way conferencing
GXP2110 Links:
Manufacturer Website
Firmware Download
Speed Dial Template 
Manual Download GXP21xx Series 
GXP2110 Use Notes:
After using this phone for several months the firmware upgrade is IMPORTANT!  There was a bug in the initial build at least on my model that led to the phone locking up (something to do with a failed login repeated attempts).  The new firmware fixed that.  I use this phone daily and have no issues with quality even on a heavily loaded network.  The quality G729 is decent (above my cell phone for sure)  but conversations on the G711 are crystal clear.
GXP2110 Price:
You can find these phones online for fairly inexpensive prices, I would suggest getting them from a Grandstream Authorized Reseller as it will make any warranty work or returns much easier.  Prices range from $120 to $149.