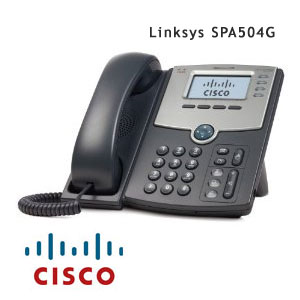 The replacement for the Linksys SPA942 the Cisco SPA504G is part of the Cisco Small Business Pro Series.   This is a SIP based IP Phone with 4 Lines and a 2 port switch.  Cisco SPA504 lives up the the Cisco quality with the small business price point in mind.  For your Church this phone makes a smooth looking simple business phone with many advanced features.
Cisco SPA504G Features
Perfect for Church or home office use
Full-featured 4-line business-class IP phone supporting Power over Ethernet (PoE)
Monochrome backlit display for ease of use, aethetics, and on-screen applications
Dual switched Ethernet port for connecting a computer behind the phone, reducing cable costs
Simple installation and remote provisioning, as well as menu-based and web-based configuration
Cisco SPA504G Links
SPA504G Product Page
SPA504G User Guide
SPA504G Firmware
If you are looking for a solid performing IP Phone for your church hosted or premise based IP PBX, then be sure to check out the Cisco SPA504G.  You won't be disappointed.