The Yealink T-22p is a phone imported from China and is a feature rich, low cost IP Phone.  Recently the T-22p has begin to see increased importation to the United States through Australia and Canada.  The features and price is low enough that this phone deserves to get some attention for possible use in your church or your church office.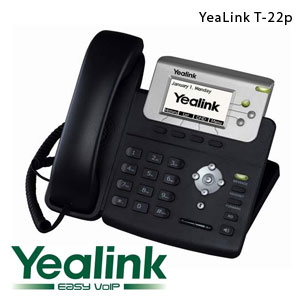 Native support in many hosted IP PBX deployments and solid Asterisk support make deploying the T-22p a simple task.  The web based interface for setup quickly gets the phone and user online and interacting with the features of the phone.  The solid feel of the handset reminds me of the old handsets from the 1990s and the phone although weighted I found myself constantly putting a book behind it to help hold it to the desk.
The speaker phone is not the best on the demo unit I had.  While it works fine with one on one calls, the duplexing comes up short in a small group conference call.  The new TI chipset and the firmware on the phone helps it snap to and respond as your calls progress in and out of the phone.  The look is perhaps more European than expected but borrows from the Cisco design concept still a solid phone for the money.
Yealink T-22p Features
Call Hold
Call Waiting
Call Transfer
Call List
DND
Voicemail
Volume Adjustment
Duplex Speakerphone
Call Forward
Caller ID
Redial
Flash
3-way Conference
SpeedDial
Dual network ports
Yealink T-22p Links