The Linksys SPA942 by Cisco is a great looking desk phone for the small business interested in switching to Voice over Internet Protocol service.  The classic Cisco look and feel is there with the black phone and silver bezel.  The familiar VoiceMail red light glows when a message is waiting and gives the phone an official office phone feel.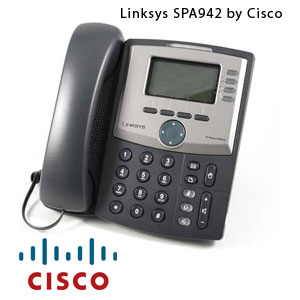 The sound quality and features of the Linsys SPA942 set it apart from other lesser SIP IP Phones.  These phones work great in either wall mount or desktop environments.  The Power over Ethernet (POE) option shows the green intentions of Cisco.  Add a wireless adapter and these little IP Phones become an even bigger deal.   With the WiFi afapter all you need is a power outlet and a good connection to a WiFi signal and you are up and making and receiving calls.
SPA 942 Features
2 100BaseT Ethernet ports
POE on Network Port
Four line display
Four Account Management
Web Based Configuration and Provisioning
Hi-resolution backlit display
Solid Feel and weight
Full-duplex speakerphone
SIP Compatible
G711u and G729 Codecs Supported
SPA942 Links
Cisco SPA942 Product Page
Cisco SPA942 User Guide
Cisco SPA942 Firmware
 If you are looking for a powerful phone with a small footprint for your Church or Home Office then be sure to look at the Linksys SPA942 by Cisco.  Cisco is a solid choice in the IP Phone market and the SPA942 is a low cost entry point with many of the same features as the $200 and $300 phones..