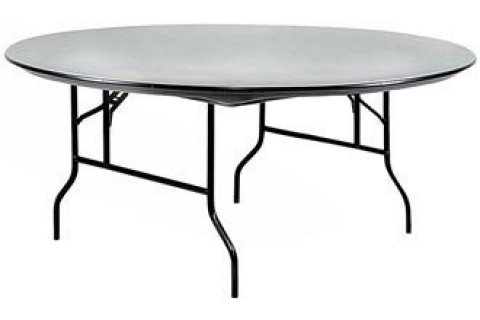 Lightweight Folding Tables can be constructed of a variety of materials including blow-mold and aluminum.  Blow-mold tables tend to be most affordable but also the least durable.  Aluminum tables tend to be the most expensive but also will last forever as they will sometimes even carry lifetime warranties.  Falling between these two levels of lightweight folding tables are ABS Folding Tables.
ABS stands for Acrylonitrile Butadiene Styrene, a very strong composite material.  ABS Lightweight Folding Tables are produced by a variety of manufacturers such as Midwest Folding Products, Mitylite and Virco among others.  While these tables will vary some between manufacturers, most often they will include the following features:
Corners that are designed to hold up even when the tables are dropped to the floor.
Bumpers for stacking that help to protect tables tops when stacked.
Steel frames that provide high weight ratings.
Durable edge molding that prevents damage.
Lightweight strong ABS on both the top of the table and bottom of the table.
Table cores with a honeycomb style.
At Church Furniture Partner we are able to provide ABS tables from many manufacturers including those listed above and others.  In many cases we will lean toward the Midwest Folding Products NLW line from an overall value standpoint.  However, there often are special deals available that can allow our recommendation to vary.  Please contact us for information on the current available best pricing on ABS tables.  One thing is sure, our prices will be the lowest on all lines of ABS tables.