It may seem odd,  but as a Church planter I am seeing more and more of our outreach into the lives of our church people done via social networking.  Learning to work within the restraints of Facebook, MySpace and Twitter I have run into a couple neat little tricks to help let people know who I am.
Your Facebook Profile Picture
After one day with posts of encouragement and scripture for some of the families I noticed that one of my peers had a great looking profile image with more information and I decided I wanted that.  It took a little digging and after getting through the miss-information online I finally figured it out.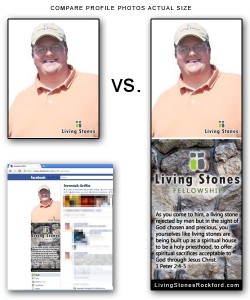 Facebook normally encourages you to randomly update your profile picture to a slim 200X300px images but on closer inspection you can use 200x600px giving you another chunk of screen to put your message on when people visit your profile!  you can use it to put more photos of your kids and pets (or grandkids) but it also can be an extra spot to show what you believe.
I use this in my example for scripture and the information on our church website.  You can use it for the same or to promote your next church event!  It does make it a little more difficult to manage because unless you  learn how to do it you can't change the photo into a picture of the grandkids or the new puppy but it help put a consistent message to those you minister to even on Facebook.
Remember that you can make your thumbnail be focused on a square in the photo.  Set aside a portion of your design to have your image cropped nicely to give you a smooth thumbnail.
Everyone has a different skill level for art programs on the computer and I am particularly fond of Photoshop (and bought it a couple versions back).  There are several FREE online sources as well as some great program you can download and start putting your larger photo and message together.
Retail Programs
Photoshop CS5 $699.00
Photoshop Elements $75
Corel Draw X5 $50
Open Source Programs
Gimp 2.6 $Free or donation
Photoscape $ Free or donation
Picasa (Google) $Free
Online Programs
Online Image Editor www.online-image-editor.com
Pixlr http://pixlr.com/
Just Google "Online image editor" and you can get a bunch to choose from!