The Protel SOHO Model S by NexMatrix is a crowd pleaser at church trade shows and North American Telephone and Video (NATNV) events.  To think that a 20 extension PBX can come in such a small package turns heads and make people question why they have that old bulky equipment in the closet.  The Protel SOHO is a mere 4″ by 4.5″ box only 3/4″ high provides tremendous power and functionality for your church.
This little box comes with over 200 hours of Voicemail storage and 10 extensions for a very reasonable price.  Compared to other similar priced PBX's the Protel SOHO Model S is an unbelievable value with auto attendants and voicemail boxes along with a very flexible selection of phones.  The ability to use a wide variety of SIP phones makes pricing for end points reasonable with prices starting at $60.
The one feature that makes the Protel SOHO Model S my personal favorite (besides the fact it will fit in my suit pocket) is the ability to mix both SIP and traditional telephone lines!  Lets say you have a number for your church and can't break free from your local telephone company.  You still want to use VoIP for your long distance or international calls.  The Protel line of PBX's allows complete call routing control so you can establish rules to mange the call path for your outbound calls.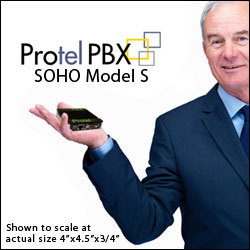 Protel SOHO Model S Features:
SIP and PSTN line routing
Wide Variety of IP Phones for endpoints
On-Screen Menu System
Automated Attendant
Blind Transfer
Call Detail Records
Call Forward on Busy
Call Forward on No Answer
Call Forward Variable
Call Monitoring
Call Parking
Call Transfer
Call Waiting
Caller ID
Caller ID on Call Waiting
Conference Bridging
Dial by Name
Do Not Disturb
E911
Flexible Extension Logic
Interactive Directory Listing
Local and Remote Call Agents
Music On Hold
Music On Transfer
and many more …
Call quality is excellent compared to my experience with other Premise based PBX systems and feature for feature the Protel SOHO Model S is the king of the hill.  If you are looking for a reasonable priced premise based PBX for both SIP and traditional land lines the Protel SOHO Model S is a great place to set the criteria for your search.