In the first article  Softphone – Taking Your Church Phone with You (Part 1) we looked at how a softphone can benefit your church.  This article is more on making your softphone experience a better one for your self and your congregation.
Softphone : Your Headset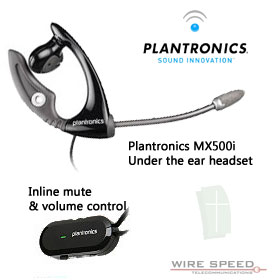 On a computer, a lot of what makes a softphone work is the microphone and speakers of the headset.  With this in consideration a good Plantronics or USB headset can be found very inexpensively.  The headset I chose is the Plantronics MX500i 3-in-1 Headset it can be purchased from Amazon for $35 (cheaper on Google Shopping).  Bottom line spend a little money up front on the USB adapter and headsets, it will work with a wide range of computers and can make or break your experience.
The main reason behind a two part headset is because headsets break.  No matter if you have a $400 Dect 6 headset or a $1 Dollar Store junkie at some point no matter how careful you are the headset will break.  By using a USB base and a 2.5m plugin headset if you break the headset you can replace it for $14 or less and have a great headset still.
Softphone : Your Computer (Processor & RAM)
The other side of the softphone that is critical to your experience is the computer itself. If your church is trying to work on a shoe string budget using computers from the 1990's then be aware this option is not your best choice. If you have a computer with plenty of RAM and unused processor power then you should have no worries.  For example, I run a single core Pentium 4 on my laptop with no issue and also on a Quad core as well moving the adapter across as needed.
 Softphone : On Your Mobile
If you are going to use the Apple iPhone or Android version of the Bria softphone then you know what kind of processing power your cell has and the Bluetooth/USB headset you are used to.  Be aware that the price for the codec upgrade is worth the money in low bandwidth situations.  The technology behind it is licensed and worth the $ (Matthew 10:10)
There is little difference between the iPhone and Android versions, the main aspect is the increased bandwidth use and the every draining battery.  Make sure if you have a Task Killer you make an exception for Bria.   The app itself will register and unregister as you move from WiFi to 3G or 4G or vice versa so be sure you know where your coverage areas are.
Should you use a Softphone?  Grab one for free (like Xlite) for your PC or Android or grab one from Apple's Appstore and give it a shot.  The impact on your availability and outreach in the ministry can be amazing.   If you missed the review on SaveYourChurchMoney.com of  Counter Path's Bria then take a look at that for an option as well.