Recently we were able to get our hands on the new Grandstream IP Phone the GXP1450 and we have had a great time with it.  One of the primary concerns with a Church Hosted PBX VoIP solution is the cost and this phone packs a punch of low cost and solid features.  If you are a church or not-for-profit looking for an inexpensive IP Phone for use in a small office or home office/study this phone could meet the needs perfectly.
The Grandstream GXP1450 is a solid two line phone that provides good business line functionality at a low total cost of ownership (priced from $60 and higher).  The audio quality is good and even the timbre and clear inflection of the callers voice can be easily determined.  The two lines allow for handling of multiple calls on a single device.  The dual Ethernet (PoE) ports provide an simple single wire drop that can be shared with a computer or other network device.   The Power over Ethernet (PoE) allows for easy single drop application of wall or desk mount with the provided stand.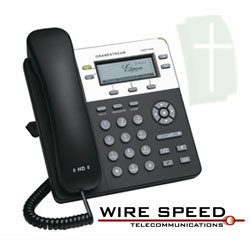 GXP1450 Features:
Full-duplex speakerphone with advanced acoustic echo cancellation
180×60 pixel back-lit graphical LCD display
2 Dual-Color line keys
3 soft keys (context-sensitive)
3 way conference by device
Device phone book (2000 contacts)
Device call log (2000 entries)
Dual 10/100 PoE Ports
GXP1450 Price:
Probably the best feature of the GXP1450 is the price.  Readily available online for $60 to $90 this makes the Grandstream GXP1450 a great low priced entry level phone.
GXP1450 Speakerphone:
While the speakerphone is a massive improvement over the last generation of Grandstream IP Phones it still falls short compared to the reliable Cisco 7960.  If the speaker phone is not the primary purpose of the phone it is more than adequate to listen to voicemail or hold a simple conversation in a private office area or pastor's study.
GXP1450 Phonebook:
One of the simple features I liked on the Grandstream GXP1450 was the integrated phonebook.  Controlled by XML or the web interface being able to put all my contacts in a finger's reach made transfers and calling others much easier.  The XML import could allow a single synchronization point for contacts on all phones in a location.
GXP1450 Links:
IP Phone User Manual
Manufacturer Website