Leap into VoIP
Setting up your Church communications system doesn't have to be frustrating or expensive.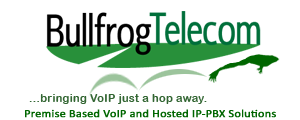 Cost Savings
One of the chief draws of IP Telephony dollar savings.  From inexpensive handset choices to long distance and international calling you can realize savings to allow you to adjust your budget towards kingdom priorities.
Flexibility
A great tool for your ever changing ministry is the ability to change your phone system functionality to meet your needs.  A premise based VoIP system offers you the control and flexibility at your fingertips.
Customization
Bullfrog Telecom offers 100% customization of any Protel PBX Phone systems.  From a small 5-10 line to complete enterprise level features and functionality for your ministry's needs.